Leather wallets are among the most popular of their kind mainly because of their durability, versatility, and beauty. Indeed, most of the iconic, classic, and trendiest wallets for women are made from leather with accents.
Of course, wallets are also made from other materials like fabric, plastic, and even metal but leather still dominates the market. You can also buy the best wallets for women online.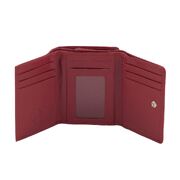 Function, Form, and Fashion
Before we go into the differences between men's and women's wallets, we have to know the similarities between the two products. This way, we are better able to appreciate the subtleties of wallets as designed for either gender.
Wallets must serve a practical function first and foremost. Designers and manufacturers of these products provide for compartments in which to store important objects like coins and currency on one hand as well as credit cards, debit cards, driver's license, identification cards and other documents on the other hand.
Obviously, the size of the wallet determines the quantity and quality of things that can be securely placed in it. Then, the wallet should also conform to the personal sense of aesthetic of whoever is using it – form and fashion.
Wallets for women, be it in fabric or leather wallets, are in the forefront of such a requirement mainly because wallets are part of their personal accessories instead of just being a functional item.